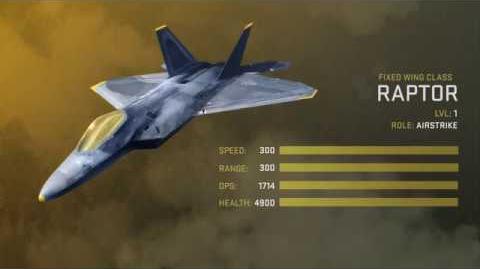 "

Raptors deliver devastating damage to a swath of the battlefield with single stealth tactical strikes.

"



 

— In-Game Description 
Target Efficiency
Infantry
Light Vehicles
Heavy Vehicles
Copters
Planes
Bad
Good
Bad
Cannot Target
Cannot Target
| Role | Speed | Range | Capacity | Cooldown Between Attacks | Equipment |
| --- | --- | --- | --- | --- | --- |
| Airstrike | 300 | 300 | 250 | 1 minute | Self Sealing Tank |
Build Cost
Unlock Requirements
Resource
Component
1,775,000
x20 Raptor Critical
Player Lvl 51
Airfield Lvl 5
General Information
Edit
The F-22 Raptor is a direct upgrade over to the Thunderbolt. It deals AOE damage via missiles in a weird shotgun-like fashion, which is unrealistic compared to its real life counterparts. This can make targets covered by Barriers easier to hit. Like its predecessor, it must be treated carefully.
Unit Progression
Edit
Level
Promote Cost
Repair Cost
Per Unit
DPS
Health
XP Gain
Resource
Component
1
N/A
N/A
1,714
4,900
N/A
2
425,000
x20 Raptor Critical
x100 Air Common
3
775,000
4
1,350,000
5
2,200,000
6
3,400,000*
7
5,000,000*
8
6,850,000*
9
8,750,000*
10
10,400,000*
* Value is a bit inaccurate due to Thorium cost addition before the Alliance War.
External Links
Edit
Ad blocker interference detected!
Wikia is a free-to-use site that makes money from advertising. We have a modified experience for viewers using ad blockers

Wikia is not accessible if you've made further modifications. Remove the custom ad blocker rule(s) and the page will load as expected.